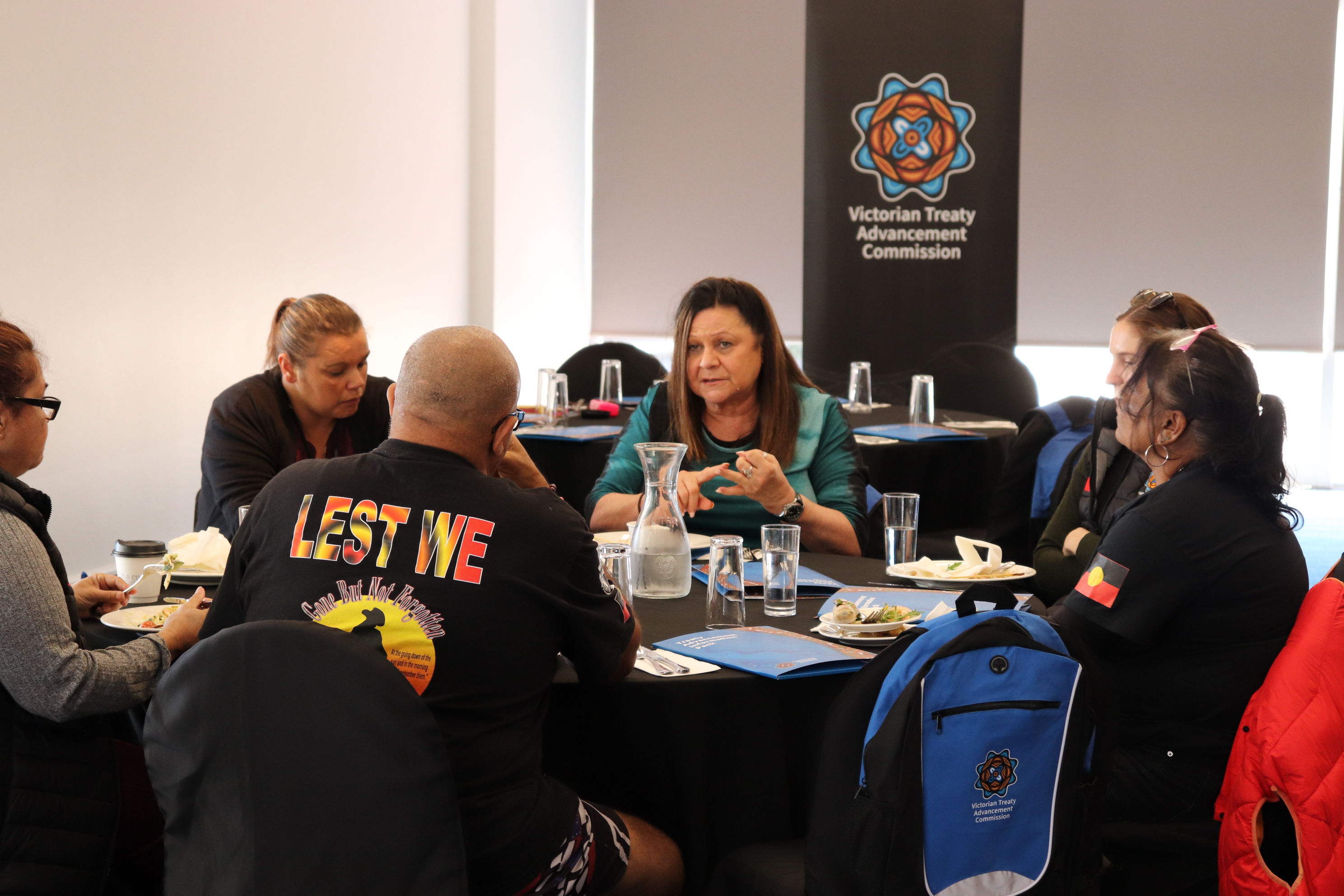 For the final leg of the treaty roadshow, the Treaty Advancement Commissioner Jill Gallagher AO visited communities across the Gippsland region between 29-31 August and 3-6 September 2018.
The Commissioner spoke with over 170 people from  Drouin, Warragul, Morwell, Orbost, Yarram, Lakes Tyers, Lakes Entrance, Bairnsdale and Sale.
The Commissioner discussed her role, the treaty process to date, and the future Aboriginal Representative Body.
A highlight of the roadshow was the opportunity for the Commissioner and the team to visit the Wulgunggo Ngalu Learning Place in Yarram.
Wulgunggo Ngalu provides a culturally appropriate learning space for men who are undertaking correctional orders.
The Commissioner met with the staff of  Wulgunggo Ngalu, and the men undertaking the program, to discuss the treaty process as well as to find out more about the activities and achievements of the Wulgunggo Ngalu Learning Place.
The Commissioner also met with the Gunaikurnai Land and Waters Aboriginal Corporation Elders Council to discuss the pivotal role of Elders in ensuring the cultural integrity of the future Aboriginal Representative Body. 
Key themes of discussion included:
Role of youth and Elders
The role of Elders in ensuring the treaty process respects customary lore.

The importance of connecting youth and Elders to build capacity of young people to be future leaders and negotiators.

The need to develop an Elders' voice model which supports regionally based Elders gatherings, so Elders can provide cultural knowledge without being burdened with travel.
Traditional Owners
The need to ensure all traditional owner voices are heard.

Exploring ways of including traditional owners who live interstate in the treaty process.
Aspirations for treaty
Community members aspirations for treaty include:
compensation for returned soldiers who were not given land or loans on return from war 
water rights
truth telling
recognition of Aboriginal peoples' unique place as Victoria's First Peoples
learning centers that promote and build cultural strength and identity.
Continuing conversations
Support for regionally based knowledge circles so that people can come together at a local level to discuss how to keep their communities informed and prepared for treaty.