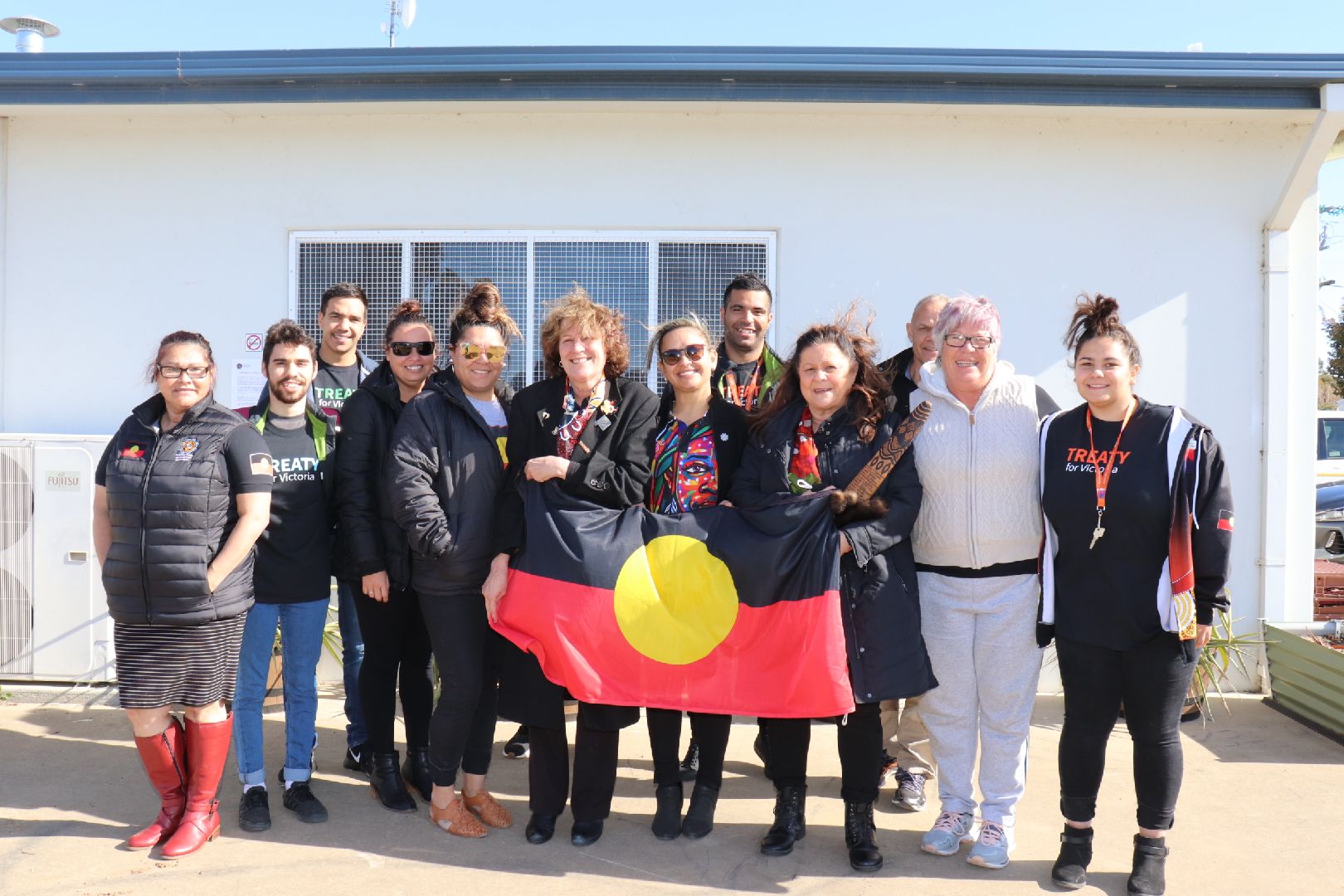 The Treaty Advancement Commissioner Jill Gallagher AO and her team visited communities in the Loddon Hume region from 16-20 July.
The Commissioner spoke directly with over 340 people in Bendigo, Echuca, Shepparton, Wodonga and Wangaratta, where she discussed her role, the treaty process to date, and the future Aboriginal Representative Body.
Meetings were based on the needs of local communities and ranged from Elders lunches and visits to the local Aboriginal Cooperatives to large town hall meetings. 
Speaking with Elders continues to be critical to the roadshows. The Commissioner hosted local Elders lunches in many of the towns visited on this leg.
Key themes of discussion included:
Role of Elders
The important role that Elders have in ensuring ethical standards apply to the Aboriginal Representative Body,  including connection to country and spirituality.
Traditional Owners
The importance of the elected traditional owners making decisions that are for the benefit of all Aboriginal Victorians.

The need to ensure all traditional owner voices are heard, including groups that are still establishing recognition of their traditional owner status.
Cross border issues
The challenges a state based treaty may present for communities living on either side of the Murray river included the desire to allow traditional owners living interstate to participate in elections.
Inclusivity
The importance of all Victorians being brought along this journey, including community members in prison, members of the stolen generations and the broader Victorian community.
Aspirations for treaty
Community member aspirations for treaty included truth telling, ensuring Aboriginal Victorian history being taught in schools, expanded family tracing services, restitution of pride and dignity of Aboriginal people, and recognition for stolen generations.

Economic sustainability was a key priority for treaty discussions including access to economic opportunities, establishing a fund that benefits all Aboriginal people across Victoria and the possibility of reparations in the form of annuities.

Across all our conversations the Commission heard the process had to have accountability and enforceability to ensure the process is fair and all parties act in good faith.
Continuing conversations
The importance of individuals taking responsibility for the consultation process and for community gatherings at a local level.